8 Wired Launch Wireless
---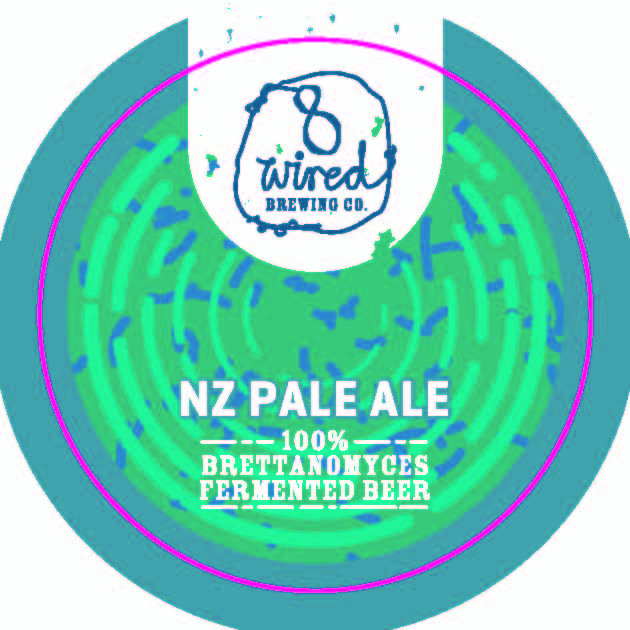 8 Wired goes Wireless with new pale ale
It's all down to the brettanomyces. It's a yeast used for beer fermentation. But it's not a yeast we normally have in our favourite beverage.
Still, it does all the things that yeast is supposed to do in the brewing process. It's just that it's unusual to use it in primary fermentation.
And that's what attracted Soren Eriksen. Eriksen and his wife Monique own Warkworth-based 8 Wired Brewing Co which produces a range of innovative craft brews – the Wireless range among them.
Now 8 Wired is launching its third and latest Wireless variant – a New Zealand Pale Ale fermented with brettanomyces – and it's giving 16 TUN patrons the first look on 16 October.
The idea behind the Wireless series is to show people there is more to beer fermentation than common or brewer's yeast, Eriksen says.
"Brettanomyces isn't new," Soren Eriksen says. "Belgian brewers have been using it for centuries – not that they knew because no-one really knew about yeast until Louis Pasteur discovered in 1866 that yeast was responsible for beer fermentation. There are also quite a few overseas new age brewers who have taken it up as well.
"It is extremely rare for brettanomyces to be used as a single micro-organism to ferment beer – it's always been for secondary fermentation in the barrels. Even that is pretty rare."
So are the Eriksen's experimenting on their fellow Kiwis?
"Not at all. We have brewed beer with brettanomyces for a few years now. The process produces a new and exciting taste profile and we already have a couple made this way in the Wireless series.
"The first two were Wireless Farmhouse, a Belgian style and Wireless IPA, more an American style – but with Wireless Pale Ale we simply wanted to add a Kiwi variant to the theme."
Eriksen says it's a pretty standard Pale Ale with a 5.5% abv hopped with Riwaka and Pacifica.
"The idea is to try out normal styles of beer but use brettanomyces to ferment them and see what happens. These are very modern and innovative beers – not inspired by century old traditions – you might even say high-tec so Wireless seemed a fitting name."
Eriksen says there is a misconception that brettanomyces creates sourness in beer but that is not the case in the new Wireless Pale Ale where the yeast does not work alongside the other microbes. The sourness in sour beers (which 8 Wired also make a lot of)comes from bacteria, not brettanomyces.
So what are the taste characteristics of the new brew?
"Ah, it's still fermenting so we haven't tried it yet. However, you can expect barnyard flavours from the yeast along with grapefruit and citrusy notes from the hops with very little bitterness as the hops were added in late stages for flavour and dry hopped for aroma.
"We're stoked to be launching it at 16 Tun. We love the way they support the craft brew community and we know their patrons are knowledgeable and discerning so the launch is going to be a lively event."
16 TUN works closely with the brewing community to curate a beer list that showcases the best craft beers the nation has to offer.
The bar's focus is full-on craft. Because it is a Free House it is not associated with any brewery enabling the team to hand select the best craft beers in New Zealand.
And with an ever-increasing number of independent breweries in New Zealand it has a wide range to select from.
About 8 Wired Brewing Co.
Soren and Monique Eriksen founded 8 Wired Brewing Company in 2009 after Soren, a former microbiologist, had been working as an assistant brewer at Renaissance Brewing Company in Blenheim. In 2011 8 Wired received the highest brewing honour awarded in New Zealand crowned Champion Brewery at the Brewers Guild Awards. In the past three years 8 Wired has also been featured on the prestigious Ratebeer.com list of "100 Best Brewers in the World", the only southern hemisphere brewery to be included in the list. After five years of contract brewing, 8 Wired is in the process of building its own brewery in Warkworth, north of Auckland where it hopes to be brewing before Christmas.
About 16 TUN
16 TUN is a Free House in Wynyard Quarter's North Wharf that specialises in craft beer. 16 TUN has 10 craft tap brews available for between three and six months depending on demand. It also stocks an extensive bottle offering – around eight different styles from Stout and Porter through to IPAs and Pilsners. The 16 TUN kitchen provides a wide variety of popular Kiwi food in "half tun" and "full tun" portions that are perfectly matched by head chef James Balakrishnan to the craft beer being served.