Behemoth Launch Hopped Up On Pils
---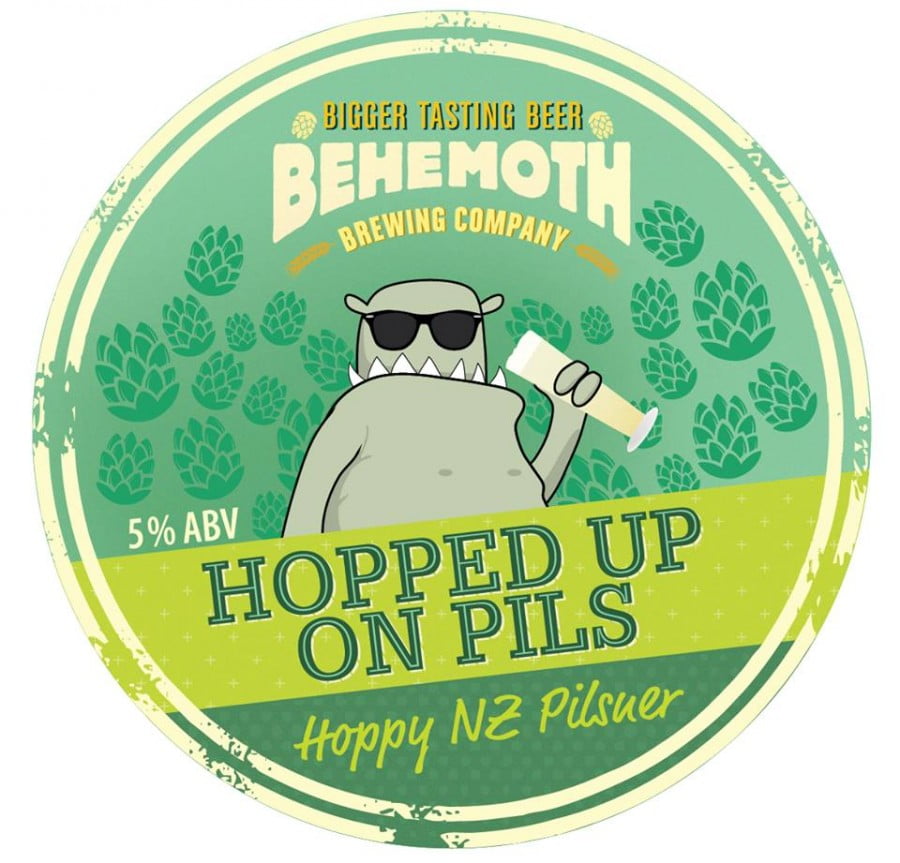 Hopping Good Pils
Keen on hops but not so sold on the bitterness you get with an IPA?  How about a pilsner with the hops you know and love, but at a 'sessionable' level of 5%?
Behemoth Brewing Company has just the answer with Hopped up on Pils, the latest addition to its craft beer collection.
It's the first Pilsner for Behemoth and combines the hops of an IPA, with the crispness and 'sessionability' of a pilsner.
Behemoth founder Andrew Childs says the formula delivers lots of flavour and aroma without the bitterness often associated with an IPA or Pale Ale.
"Pilsner fits in to the lager family and this is our first lagered beer of any kind. It's got a light body and a crisp finish but the flavour and aromas are robust."
Childs says Hopped up on Pils features lots of orange, tropical notes – thanks to Motueka and NZ Cascade hops – mixed with NZ Pilsner malt, lager yeast from Mangrove Jacks.
It's the third permanent addition to Behemoth's bottled range, sitting alongside the popular Chur New Zealand Pale Aleand 'Murica APA. Hopped up on Pils will be available in mid-November in 330ml and 500ml bottles as well as on tap.
16 TUN in Auckland's Wynyard Quarter will be first to have the new pilsner on tap and you can be one of the first to try it on Thursday November 13.
About Behemoth
Behemoth is the brainchild of Wellington-born and -raised Andrew Childs. A fascination with beer led him to abandon his law career and focus on his passion for brewing craft beer. Childs' first industry recognition came with a win at Wellington in a Pint, with Celia Wade Brown Ale 6% coffee brown ale – a beer that represented Wellington. Soon he was head hunted to be the "Beer Man" at Mangrove Jack's (home brew wholesaler).  In June 2013, Childs founded Behemoth part time launching Celia Wade Brown Ale as his inaugural brew.
At the 2014 New Zealand beer awards Behemoth received a gold medal for both Chur (NZ Pale Ale) 5.5% ABV and 'Murica (American Pale Ale) 6%. It also achieved Gold and the Best in Class Trophy for its Beervana Festive Brew, the Brave Bickie Brown Ale 6%. The beer represented a liquid anzac biscuit and included oats, golden syrup, toasted coconut and cocoa nibs.
Behemoth has created more than a dozen beers in the past 18 months. Hopped up on Pils is the brewer's third full time bottled beer. As well as being on tap at 16 Tun, Hopped on Pils will soon be available in bottles at Liquorland, Glengarry's and New World supermarkets as well as in restaurants, bars and specialty beer stores.
About 16 TUN
16 TUN is a Free House in Wynyard Quarter's North Wharf that specialises in craft beer. 16 TUN has 10 craft tap brews available for between three and six months depending on demand. It also stocks an extensive bottle offering – around eight different styles from Stout and Porter through to IPAs and Pilsners. The 16 TUN kitchen provides a wide variety of popular Kiwi food in "half tun" and "full tun" portions that are perfectly matched by head chef James Balakrishnan to the craft beer being served.